Families of special needs children in New Jersey are overcome with happiness following the recent passing of a new law allowing disabled students to have edible medical marijuana on school grounds,
reports
NJ.com.
[1]
Signed into law by Gov. Chris Christie on November 9,
A4587
[PDF]
requires school boards to adopt a policy permitting parents, guardians or primary caregivers to provide edible cannabis to handicapped children on school property.
[2]
Under the law, special needs students may now bring their
medical marijuana
with them or allow parents to hand over the medicine to school nurses so they may administer it during school hours. Parents, caregivers and/or guardians are now also allowed to go to the school to administer the medicine themselves.
New edible pot bill inspired by epileptic teen's fight for fair treatment under NJ medical marijuana law
While medicinal marijuana is legal in New Jersey, even for minors, school officials prohibit some families and nurses from administering the drug on school grounds to special needs students, despite having permission from their doctors. School officials argued
New Jersey's Compassionate Use Medical Marijuana Act
conflicts with federal law and violates the school's "drug-free zones."
[3]
Gov. Christie's bill was inspired by the case of 16-year-old Genny Barbour from Maple Shade, New Jersey, who was diagnosed with having autism and epilepsy, causing her to suffer from frequent and severe seizures. After joining a medical marijuana group consisting of parents with special needs children who benefit from the herb, the Barbours began trying to experiment with the drug on their daughter. Soon, Genny Barbour "began taking an eye-dropper sized dose of her mother's homemade cannabis oil in a small glass of cola in the morning, after school, and before bedtime." Genny Barbour's parents say cannabis oil is the only thing that provides their daughter relief from seizures, also keeping her calm, attentive and vocal in school,
reports
NJ.com.
[4]
However, the parents noticed she would attend school in a good mood, but would return home irritable, upset and self-abusive.
The Barbours head to court
To keep Genny Barbour stable, their doctor recommended a fourth dose at lunchtime, which was when the family's problems began. [caption id="attachment_228" align="alignright" width="550"]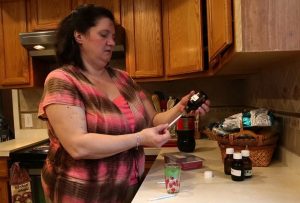 Lora Barbour making homemade cannabis oil (Credit: John Munson - NJ Advance Media for NJ.com)[/caption] While the Maple Shade school district was initially supportive of Genny Barbour taking medical pot, as they witnessed her vast improvement firsthand, the Barbours were met with a much different attitude after requesting she be allowed to take it during school hours. They were given a fast and flat "no" by their daughter's private school, prompting the family to sue the school district. The case was unprecedented in that it was the first in the nation to challenge cannabis use in school. A judge sided with the school district, stating the family had not provided enough evidence showing that the teen's condition suffered during the day because she lacked that fourth dose. The judge also cited the conflict between the Drug-Free School Act and the state's medical marijuana law. Refusing to give up, the Barbours appealed. In the meantime, they decided to allow their daughter to only attend half-days at school, prioritizing her health. "During spring break the week of April 13, Genny reached a milestone: she was seizure-free for seven days — the longest stretch of time since she was three months old, according to her parents. By being home, she was able to receive the lunchtime dose of cannabis oil," reports NJ.com.
Gov. Chris Christie comes through for Genny Barbour
The Barbour's appeal was still pending when Gov. Christie shocked them by signing A4587 into law. Roger Barbour, who is also the family's attorney, said he'd be calling the school promptly to figure out what their next step would be. "The ultimate goal was to keep Genny in school the whole day. Now it is clear Lora [Mrs. Barbour] can come on campus to give her the medicine, and they have to come up with a policy," Mr. Barbour said. "Sen. Nicholas Scutari, (D-Union), one of the bill's sponsors, said he was happy the governor agreed with honorable intentions of the legislation, which had wide public support. School boards will have to begin adopting policy to comply with the law, he said. "'It was an issue we thought was important, and the governor recognized its importance and the narrow scope of it,' said Scutari, adding, 'It was the right thing to do.'"
Sources:
[1]
NJ.com
[2]
NJLeg.state.nj.us
[3]
NJ.com
[4]
NJ.com